There is a huge need for orientation and mobility training for blind people, as well as those who are newly blinded. It takes on average two and a half months of daily interaction to teach these skills.
Everyday Living
This free rehabilitation teaches the visually impaired how to get around on their own again. It focuses on the basic skills of daily living and how to effectively carry out tasks like identifying money and clothing, ironing safely, cooking, pouring drinks and general housekeeping.
Independence
This training is vital to ensure that those with little or no vision gain confidence and self-sufficiency. Our instructors assist with teaching people new skills and safety measures – even how to move about and commute on their own – in order to live successfully in society.
Employment
It is important that a visually impaired person should not be forced to stop working. We meet with their employer to help keep that person employed, research other opportunities within the organisation as well as conduct on-the-job training.
Blind SA is proud to have recently launched Mali-Bhala – a money counter and signature guide – in association with the Disability Rights Awareness Month. This locally created device comes in two standard sizes that are designed to fit either in a person's wallet or pocket.
It is used as an indicator to differentiate between the five South African 'Mandela' bank notes and
as a signature guide. It will give thousands of blind and partially sighted individuals the independence of signing documents and counting money.
The cost for a single Mali-Bhala is R20 or R35 for a double pack that includes both the pocket and wallet size devices. Blind SA strives to make assistive devices like this one more accessible and affordable to the blind community. For more information or enquiries on this device, please contact 011 839 1793. Blind SA launches another inexpensive but very handy tool for daily living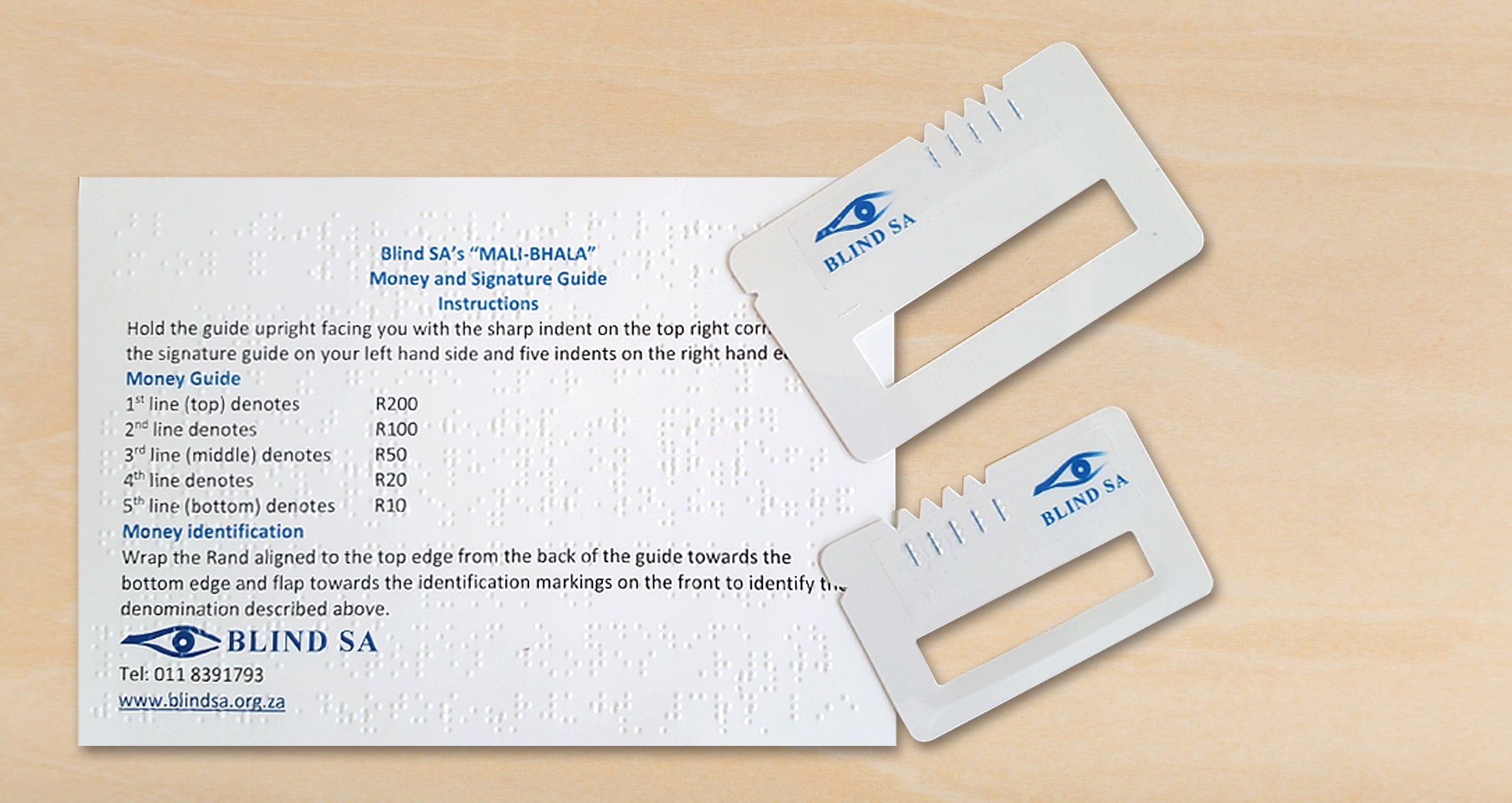 SADDT ASSISTIVE DEVICES PROGRAMME
SECOND CALL FOR APPLICATIONS
SADDT is calling for applications for assistive devices for employed and self–employed disabled people. SADDT took a decision to source and provide Assistive Devices for employed or self-employed disabled people based on its provisioning criteria. The project will be targeting only 100 disabled people nationally. In providing the assistive devices. SADDT will consider equitable provincial spread.
The SADDT Criteria is to provide assistive devices or technology to economically active disabled people for equipment that is not related to reasonable accommodation.
"Reasonable Accommodation remains the responsibility of the employer or owner/directors for those who are self-employed".
SADDT will consider Unjustifiable Hardship where necessary. "Unjustifiable hardship' is action that requires significant or considerable difficulty or expenses. This involves considering, amongst other things, the effectiveness of the accommodation and the extent to which it would seriously disrupt the operation of the business."
The aim of the SADDT Assistive Devices Programme is to provide disabled people in need of assistive devices to sustain their jobs.
The approach for sourcing of application will be done through social media and emailing to individual disabled people and their organisations with the hope that the information will be circulated widely in the disability sector.
Criteria
Disabled people are requested to submit to SADDT based on the criteria set below:
1. The applicant should be employed or self-employed person with a disability.
2. Applicants requesting assistive devices due to Unjustifiable Hardship may be considered based on the motivation and supporting documents.
3. SADDT will cover assistive devices to the maximum of R20 000,00 per applicant or a contribution where the device exceeds the SADDT maximum amount.
4. Quotations are to be attached and all relevant documents that are required in the application form.
5. The project will be open from April 2021 to September 2021 or close once funds have been exhausted.
Conditions
1. Only one device will be considered per applicant.
2. SADDT will pay direct to the supplier.
3. Where the request exceeds the SADDT amount, SADDT will provide part-payment but will pay once a proof of payment of the balance has been submitted.
4. No refund to individuals or companies for Assistive Devices pre-purchased.
5. Beneficiaries will sign a contract with a consent for SADDT to use their details and pictures for reporting purposes.
6. Beneficiaries to submit a report after a month of use of the device to SADDT on the benefits and how the device has enhanced your independence.
7. SADDT outcomes and decisions to applications adjudicated is final.
8. Incomplete application forms will not be considered and will automatically be disqualified.
NB: WESTERN CAPE HAVE REACHED 80% ALLOCATION. ONLY 2% WILL BE CONSIDERED AND OTHERS AND BALANCE OF NEW APPLICATIONS WILL BE CONDSIDERED AT THE END OF THE PROJECT IF OTHER PROVINCES HAVE NOT TAKEN UP THEIR ALLOCATIONS.
Please email applications and relevant documents to AD2021@saddt.org.za